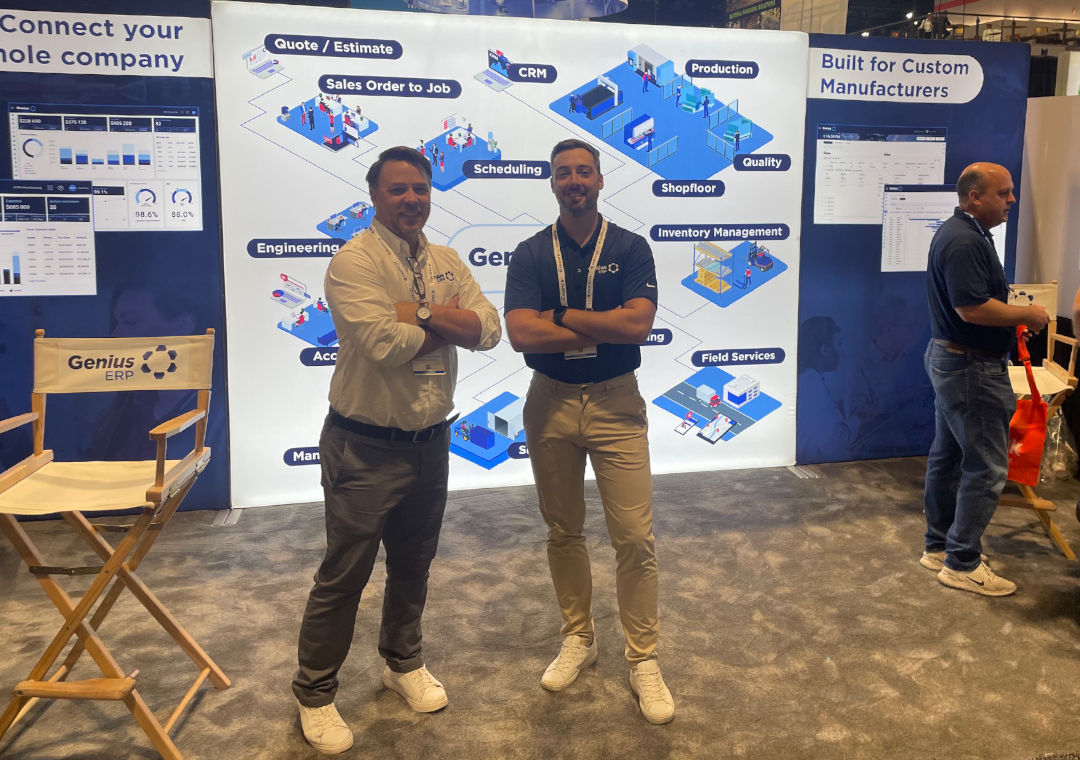 Another great Fabtech for Genius ERP
The Genius ERP team wrapped up a fantastic week at Fabtech Chicago 2023. It was terrific to talk with so many manufacturing people in such a short period of time. We love getting to dig into so many manufacturing challenges face to face and showing manufacturing leaders how Genius solves similar issues for our customers. 
Here's our take on the show, what we learned, what was new and exciting, and what we missed from past shows.
By the Numbers
North America's premier manufacturing trade show is truly massive. Close to 50,000 people attended over four days, getting the chance to connect with more than 1,500 exhibitors spread out across 800,00 square feet of the sprawling McCormick Place. The Chicago version of the show runs every second year and is slightly larger than the alternate sites in Atlanta, Las Vegas, or what is planned for next year in Orlando. 
Job and machine shops step up
Fabtech has always welcomed Manufacturers of all types, but normally has a heavy concentration of Engineer-to-Order, Assemble-to-Order, Machinery and Equipment and discrete manufacturing outfits, especially compared to IMTS, North America's other gigantic industry trade show that is primarily geared toward job shops. This year, however, Fabtech's audience definitely had a larger percentage of job shops and machine shops. 
It was great to get to speak with them about the nuances of their manufacturing environments, the unique challenges they are facing, and show them Genius ERP already helps so many job shops increase productivity and profitability. It also gave us a chance to show off our partnership and integration with Stella Source to improve their ability to simplify quoting and accelerate their sales.
More machine options than ever
Fabtech has never lacked options if you were looking to buy machines, but this year's show definitely seemed to up the ante on how many machine makers you could choose from. All three buildings at the McCormick were jammed to the gills with the latest machinery for cutting, forming and bending metal. Whereas past shows had smaller booths featuring parts makers, subcontractors, software companies, and international outlets – this year's show had machinery makers right out to the edges. 
Talking with a few of our machine customers who were exhibiting, they said the additional competition didn't hurt their results. Customers just had a bit more to sort through before making their decisions. Choice is never a bad thing, but I didn't envy a manufacturer looking to differentiate between dozens of brake press makes and models.
Education still seems to be underutilized, maybe unwanted?
Fabtech is a solid, tight 4-day show that crams in a lot of action and doesn't overstay its welcome (I am looking at you, bloated 6-day IMTS!), but if I had to point out one thing that could be improved, I would start with the educational offerings. Too many sales pitches masquerading as classes, crowds so small you'd be able to put them in one Uber (if you could get one leaving the McCormick at closing time). 
Talking with some of the attendees, two things are clear: 1) they don't really know what's being offered, and 2) even if they did, it's not the reason they come to the show. The whole program seems to be a leftover from early generations. 
2024 and beyond
Fabtech 2024 has been moved from Las Vegas (due to a new Formula 1 race debuting there next year) to the Orange County Convention Center in Orlando, Florida. I talked with representatives from Orlando, and, despite the rather late change, they expect a big turnout in one of the world's best convention and trade show cities.

Following Orlando, the upcoming Fabtech schedule looks like this:
2025 – Chicago: September 8-11
2026 – Las Vegas: October 21-23
2027 – Chicago: September 13-16
Get your eBook Scared to implement a new ERP?
"*" indicates required fields