Manufacturers across North America trust Genius ERP to help them grow their businesses

Everything you need to get the job done right
Everything you need to get the job done right
Our solutions by industry
Case studies
We're honored to help hard-working SMEs grow
Whether you're looking for your first ERP, or you need a replacement solution, manufacturers just like you have realized the benefits of implementing Genius ERP.
Real people, real results
They really were experts. Not only in the software, but they also spoke the language of manufacturing.
Jennifer Hinds
Systems Manager
We can now process five times more quotes than before, and our estimation process is two to three times faster.
Alexandre Ledentu
Technical Estimator
With Genius, we're confident we found a long-term partner as we continue to grow in our industry.
Erin McClain
Administrator
The implementation team was quite knowledgeable, especially on the custom manufacturing side — where we had a lot of questions.
Tim Salihu
Engineering Supervisor
Genius has been, in some ways, life-changing for the company, and has helped bring us into the 21st century.
Timothy Copp
VP, Business Development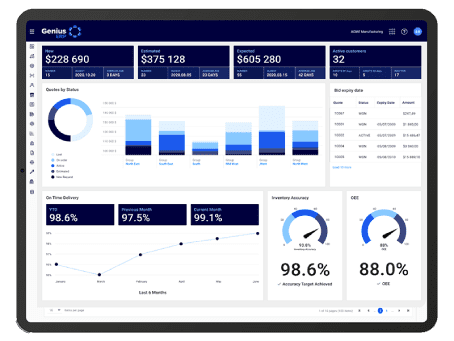 Professional services
ERP Training, Manufacturing Consulting and Customer Support
With Genius ERP you get the right team for the job. We are committed to the long-term success of our customers, and our professional services teams approach each of our customers with care, attentiveness and professionalism.